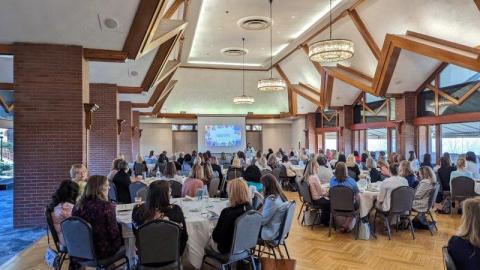 On April 13th, the 20th annual Jean E. Winsand Institute for Women in Education was held at the Edgewood Country Club. This one-day leadership conference is specifically designed for women leaders in K-12 school districts and educational institutions. More than 150 attendees joined the event to hear from keynote speaker Michelle King and participate in workshops.
Michelle King, a learning instigator and love activist, delivered an inspiring keynote speech on the conference's theme, "Conspiring Towards Joyful Futures." Her message resonated with the audience, who left feeling empowered and inspired to create positive change in their districts. In addition, there were a number of impactful workshops. These included Michelle King's "Women at Play: Community Care = Self Care," Dr. Janet Sardon, Dr. Melissa McCauley, and Angela Bell presenting "Thriving with Authenticity: Lead, Communicate, and Relate," and Dr. Mary Catherine Reljac, Ashley Constantine, and Laura Miller presenting "Why? Because It's Worth It!"
On top of the workshops and keynote address, the event featured two annual awards. The Jean E. Winsand Distinguished Woman in Education Award was presented to Dr. Caroline Johns, who has demonstrated exemplary leadership and service to others throughout her career. The Jean E. Winsand Emerging Woman Leader in Education Award was presented to Ms. Quincy Gildea, who has already made a significant impact through her leadership.
The event also featured a pop-up market held by the Western PA School for Blind Children, showcasing incredible student-made items. Tri-State would like to sincerely thank all participants, presenters, and students who made this year's iteration a success! We can't wait to see you next year!